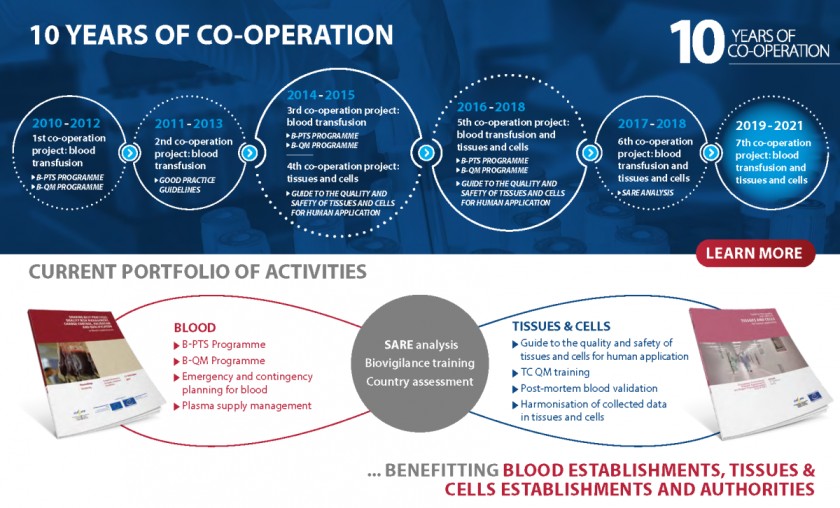 The European Commission (EC) and the European Directorate for the Quality of Medicines & HealthCare (EDQM) of the Council of Europe began formally co-operating in the field of blood in 2010, and later extended the scope of this work to the area of tissues and cells. Their co-operation is contributing to laying the groundwork for a harmonised governance framework for substances of human origin (SoHO) in European Union (EU) and Council of Europe member states and beyond.
Currently, this technical co-operation covers the field of blood transfusion, tissues and cells for human application and organ transplantation. A variety of treatments based on substances of human origin (blood, tissues and cells) help save lives or improve patients' quality of life on a daily basis, for example blood transfusions in the case of trauma, skin grafts in burn scar reconstruction or haematopoietic progenitor cell transplantation to treat severe malignancies.
Over the years, the EDQM has developed a body of harmonised quality and safety standards, described in the Guide to the preparation, use and quality assurance of blood components and the Guide to the quality and safety of tissues and cells for human application. Working with the EC, it has also fostered the implementation of a common European legislative framework for blood establishments, such as the Good Practice Guidelines, and technical standards.
Through operational activities such as audits of European blood establishments (BEs) and training sessions or workshops under the Blood Quality Management Programme (B-QM), the EU and EDQM/Council of Europe help all European countries comply with European standards and they support EU candidate countries in implementing the relevant European regulations. This work has also enabled the collection of evidence as a source of meaningful information for developing evidence- and risk-based European legislation and policies and was the basis for the EDQM/Council of Europe contribution to the evaluation of EU legislation on blood, tissues and cells. This evaluation was initiated in 2017, has been conducted in line with the EU's better regulation guidelines and continues to be at the heart of the EC's work in this field.
To mark 10 years of successful co-operation, the two organisations are holding a virtual conference – entitled "Keeping up with Reality and Quality: A Challenge for European Blood Establishments", from Tuesday 27 to Thursday 29 October 2020 – taking stock of the challenges that European BEs face in their daily practice. In recent decades, changes in the scientific, regulatory, societal and economic spheres have greatly impacted BEs. The online conference will help to identify how the EDQM/Council of Europe and the EC can reflect on ways to make Europe's blood systems more efficient, resilient and sustainable.
More information on the revised programme and how to register for the conference "Keeping up with Reality and Quality: A Challenge for European Blood Establishments"