Contact the EDQM

Business Hours
Business hours are from Monday to Friday: 9:00 to 16:30.
The EDQM office is closed on Saturdays, Sundays and French national holidays.
---
Questions about the EDQM?
Before contacting the EDQM, take a look at our Frequently Asked Questions (FAQs), as we may have answered your question already.
This section provides answers to FAQs covering all the EDQM's activities. More than 200 FAQs have been identified. These have been organised into 11 different topics.
Click on the links below to browse the FAQs related to each EDQM activity:
---
How to contact the EDQM via the HelpDesk
To contact the EDQM using the HelpDesk, you need to create an account and to select the topic of interest to access a specific form.
To access the HelpDesk portal click on the following link: EDQM HelpDesk
For more information on using the HelpDesk, please consult the Manual.
---
Press Enquiries
For all media queries please contact the Communications & Events Division.
The EDQM has two different addresses: an official postal address and a delivery address.
Headquarters - Postal Address
EDQM - Council of Europe,
7 allée Kastner, CS 30026
F-67081 Strasbourg
FRANCE
Telephone: + 33 3 88 41 30 30
Fax: + 33 3 88 41 27 71
Delivery Address
Items mailed by express mail or courier delivery should be addressed to:
EDQM - Council of Europe,
7 allée Kastner
F-67000 Strasbourg
FRANCE
For all shipments of mail, packages and goods (excluding substances) to the EDQM, the sender is responsible for paying all charges related to the shipment, including duty and taxes (delivered duty paid).
Opening hours for reception and dispatching of documents, packages and substances are from Monday to Friday, 8:00 to 12:30 and 14:00 to 16:30.
Coming from Strasbourg Airport: A train link operates from Strasbourg Airport (Entzheim) to Strasbourg city centre (railway station). More information can be found on the Strasbourg Airport Website.
Coming by Tram: The EDQM is located 5 minutes walk from the stop Robertsau Boecklin on tram line E.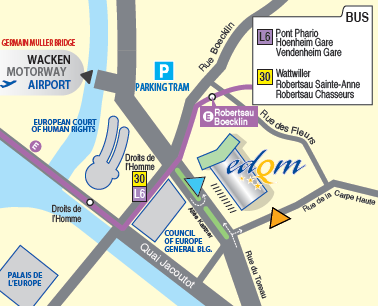 View a Local Area Map showing the EDQM's offices.